Course details
【2H raw orion beer etc, 9 items with sweet and sour.】 ●.· Tachibana ~ course 5000 yen ·.●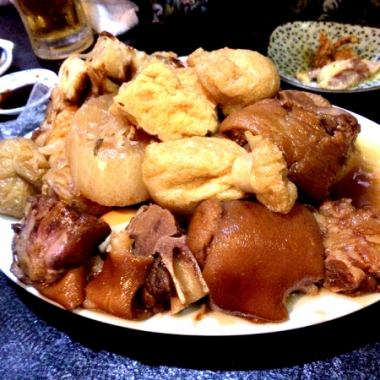 5000 Yen
Course dishes only, 3200 yen
All-you-can-drink available

All you can drink from beer to the original "Okinawa kakkuteru" !!!
Reservation deadline

Visit of hope the day before until 23:00
Available days for reservation

Tuesday, Sunday, Public Holiday, Holidays
It is a full-bodied course of Okinawa food ingredients containing Ryukyu delicacies ♪ Tachibi <Pork feet> entering Ryukyu Oden does not accumulate ... The deed put Okinawa soba in Oden soup.
Course menu
<First ahead> Okinawan mozuku vinegar>
<Delicacy> Four kinds of Okinawa delicacies
<Nana> Kimagure salad
<Cooked goods> Okinawa version Chizimi "Hirayaku"
<Simmered dish> specialties! Sauteed of Soki
<Fried fish> Random fried food of the day
<Chanchan> ~ Goya Chanpuru ~
<Meals> Ryukyu accompanied by rich fruits & Okinawa soba that is kept in Oden's soup stock
- All 9 items
Contents may change depending on purchase and season.
2 hour drink all you can do ☆
(Last order 30 minutes ago)
All-you-can-drink menu
·beer
· Orion beer / non alcoholic beer / hoppy (white / black)
·Highball
High ball / Cork highball
·wine
, Red, and white
·plum wine
· No sugar plum wine / Awamori plum wine / Shisui plum wine / Green tea plum wine / Tea divide / Melancholy tea / Oolong split / Green tea split
·sour
· Sequercer / Passion fruit / Momo vinegar / Island banana / Orange / Lemon / Grapefruit / Calpis
·Fruit wine
· Momo / La France / Ichigo / Kiwi / Grape / Hass Cup
· Tiger Cocktail
· PAIKAJI Sunrise / Dreaming Shisa / Island WINE / Awamori Tonic / Tropical R 58 / Beach Cork
Standard cocktail
· Cassis (Orange · Grapefruit · Soda · Oolong · Sanpin) / Lychee (Orange · Grapefruit) / Passion (Tonic · Orange · Grapefruit)
Awamori
· Inari Ishi Mild / beautiful Kuri / Wanza / Remaining wave White / Ryukyu Classic / Ruizen / Tadataka / Kumejima's Kume Sen / Nico Nico Taro / Maomi / Direct Fire Buruku / Yamabara Kunai / Kura / Ryu / Tamaki / Saki Original sake / Taiping / Masahiro Black / Kikunoshiro Brown / Tara River Brown / Yae Izumi / Shirayuri
Shochu
· Black Kirishima (potato) / Ichiban (potato) / Tanabata (potato) / Firefly (sweet potato) / Satsuma Baoshan (potato) / Wired (sugar) / Kikaijima (Brown sugar) / Ren (Brown sugar) / Ichibancho ) / Three years kneading (black sugar) / River of God (wheat) / Shiratake (rice) / Unkai (soba) / Red maiden (sesame)
2018/10/24 update