Course details
【2H raw Orion beer etc, 7 items of swallowing and drinking】 ●.· Tachibana ~ course 4000 yen ·.●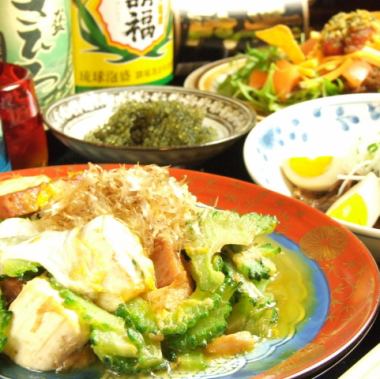 4000 yen
Only cooking will be 2200 yen.
All-you-can-drink available

All you can drink from beer to the original "Okinawa kakkuteru" !!!
Reservation deadline

Until 23 o'clock the day before the store visit date
Available days for reservation

Tuesday, Sunday, Public Holiday, Holidays
It is a full-bodied course full of Okinawa ingredients ♪
Course menu
<First aid> Okinawan mozuku vinegar
<Nana> Shisa salad of Okinawa soba
<Cooked goods> Okinawa version Chizimi "Hirayaku"
<Simmered dish> specialties! Sauteed of Soki
<Fried fish> Random fried food of the day
<Champuru ~> Seasonal Chanpuru ~
<Meals> Boasting taste! Taco rice
- All seven items
Contents may change depending on purchase and season.
2 hour drink all you can do ☆
(30 minutes before the last order)
All-you-can-drink menu
·beer
· Orion beer / non alcoholic beer / hoppy (white / black)
·Highball
· High Ball / Cork High Ball
·wine
·Red and white
·Plum wine
· Sugar-free plum wine / Awamori plum wine / Shisui plum wine / Green tea plum wine / Tea divide divide / Sanshin tea split / Oolong crack / Green tea split
·sour
· Sequercer / Passion fruit / Momo vinegar / Island banana / Orange / Lemon / Grapefruit / Calpis
·Fruit wine
· Momo / La France / Ichigo / Kiwi / Grape / Hass Cup
· Tiger Cocktail
· PAIKAJI Sunrise / Dreaming Shisa / Island WINE / Awamori Tonic / Tropical R 58 / Beach Cork
· Standard cocktail
· Cassis (Orange · Grapefruit · Soda · Oolong · Sanpin) / Lychee (Orange · Grapefruit) / Passion (Tonic · Orange · Grapefruit)
· Awamori
· Inari Ishi Mild / beautiful Kuri / Wanza / Remaining wave White / Ryukyu Classic / Ruizen / Tadataka / Kumejima's Kume Sen / Nico Nico Taro / Maomi / Direct Fire Buddhist / Yamabara Kuna / Kura / Ryu / Tamaki / Saki Original sake / Taiping / Masahiro Black / Kikunoshiro Brown / Tara River Brown / Yae Izumi / Shirayuri
· Shochu
· Black Kirishima (potato) / Ichiban (potato) / Tanabata (potato) / Firefly (sweet potato) / Satsuma Baoshan (potato) / Wired (sugar) / Kikaijima (Brown sugar) / Ren (Brown sugar) / Ichibancho ) / Three years kneading (black sugar) / River of God (wheat) / Shiratake (rice) / Unkai (soba) / Red maiden (sesame)
2018/10/24 update